Sunday, 10 March 2013
David Ramos/Getty Images
After experiencing a rough patch in their season, Barcelona find themselves clinging to La Liga triumph and run the risk of a Champions League exit if they're unable to overcome a 2-0 deficit against AC Milan this week.
While that may be the case however, the Blaugrana appear to be finding what every team going through a sticky bit of form wants to find: a way out.
Tito Vilanova's men are finally getting their act back together, and Saturday's 2-0 victory over Deportivo La Coruna showed evidence that Barca are ready to return to winning ways as they enter the crucial final phases of their campaign.
Blaugrana Roster Running Deep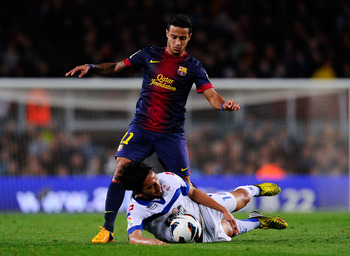 Thiago Alcantara
David Ramos/Getty Images
Against Deportivo, Jordi Roura, the man standing in as manager due to the absence of Tito Vilanova, fielded a significantly weakened starting XI, evidently with the European fixture against AC Milan in mind.
In what were rare starts for some of the Barcelona stars, the likes of Thiago Alcantara, Cristian Tello, Alex Song, Adriano and Alexis Sanchez all impressed, coming into the limelight for what was a comfortable win over sloppy opposition.
To be able to boast some of the world's biggest talents is undoubtedly a major boon in any club's arsenal, but having the ability to call talent of equal worth off the bench is just as important in any grueling campaign.
Giving key players such as Lionel Messi, Andres Iniesta, Xavi, Pedro and others a rest before such a vital fixture is crucial if Barcelona are to be at their fighting best for their Champions league commitments, and some of their less publicised assets all did a job in proving there's more to this team than just their starters.
Big Guns Proving as Reliable as Ever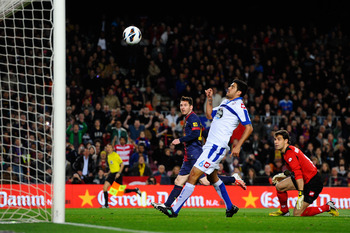 David Ramos/Getty Images
As much as one can value the gift of a deep squad, it's of equal if not greater importance that a club's biggest stars—of which Barcelona have many—can perform to specification when called upon.
In the latest triumph over Deportivo, the league leaders looked uncertain against a side sitting at the bottom of La Liga, unable to deliver any killing blow until late in the second half.
As if it were left up to the Fates, Lionel Messi came on with 25 minutes left to play and quickly changed the dynamic of Barca's attack, injecting a much-needed urgency among the hosts before getting himself on the scoresheet for the 17th consecutive La Liga fixture.
However, it wasn't only Messi that changed the game in Barcelona's favour, as Andres Iniesta and Sergio Busquets each added their share of security to the home side's midfield, putting the match beyond Depor's reach in the process.
Add to that other talismans such as Dani Alves, Cesc Fabregas and Carles Puyol all pitching in with good displays, and Tito Vilanova can be pleased to have an in-form batch of superstars at his disposal.
Although some got more of a chance to shine than others, the fact that Barca's bigger talents are still showing the enthusiasm to go and earn results just two months from season's end can certainly be considered encouraging for any among the club's fraternity.
Home Form Remains Reliable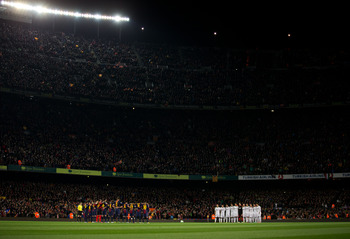 Jasper Juinen/Getty Images
The backbone of any club, it's important that a side be able to trust in their own strength when playing in front of their own fans more than anywhere else, a trait Barcelona have certainly imbued this season.
The Catalan giants may have dropped more results away from home than they would have liked in recent months, but being able to get to March having sacrificed just two points at home is quite the feat.
Those lost points, of course, came in a 2-2 home draw against Real Madrid back in September, but it would seem Vilanova's men have learned from that mistake and are as resilient when playing at the Camp Nou as ever.
Renowned as one of Europe's toughest venues, Barcelona's ground is once again the fortress the Blaugrana would hope it should be. Draws against Málaga and Benfica in the Copa del Rey and Champions League, respectively, are the only blips to speak of.
As long as this remains the case, the leaders of the Spanish top flight can, like many a championship-winning team do, call home somewhere to feel at ease, evidenced in the nine-match home winning streak the club are currently enjoying.
Finally Signs of Defensive Security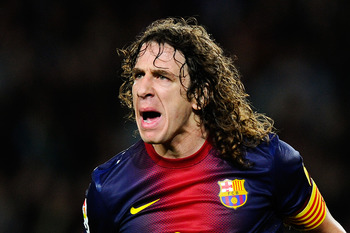 David Ramos/Getty Images
It's no secret that the one area in which Barcelona have struggles to maintain consistency in this season is defence, a run of form the
Guardian
reported is the club's worst since 1962.
While one can't base expectations around one result, the 2-0 win over Deportivo La Coruna brought to its end a clean sheet-less streak stretching back 13 matches across all competitions.
Putting such demons behind them is a major plus for the Barca defence, which will assuredly have seen its confidence hit as a result of poor results.
Against Depor, the Catalan side's back four were assured and confident in their manner, restraining the visitors to but a handful of chances, none of which actually found their way on target.
There's certainly a long road until the Spanish giants—currently with just the fifth-best defence in La Liga—can say their defensive issues are over, but every journey has to start somewhere, and this one begins with a clean sheet.
Tiki-Taka Style Still Alive and Well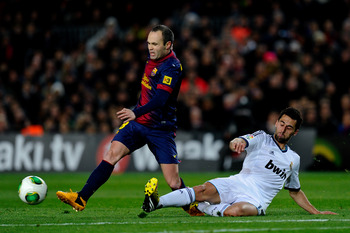 David Ramos/Getty Images
Following their most recent drop in form, Barcelona heads had almost begun to drop, unfamiliar with the below-par lack of success that was currently plaguing their season.
The knee-jerk reaction to such instances is to look for change, a way out—a "get rich quick" route back to the lofty heights enjoyed in a previous life.
However, such concerns are all too premature and the uncharacteristic three losses suffered in Barcelona's last five outings across all competitions are natural anomalies which can occur at any club, even those considered most powerful.
The old adage goes that one should always play to their strengths, and the irrepressible, omnipresent strength embodied by the Barcelona way of life is Tiki-Taka, the most modern form of Total Football.
It's with Tiki-Taka that Barca have come across an incredibly rewarding last decade or so, and it's with Tiki-Taka that the side will continue to see such grand success.
If there's one positive any Barcelona supporter can glean from the recent quagmire of results, it's that the club continue to showcase the all-involving style that has made them the force they are in recent years, the latest masterclass of which came against Deportivo.
In total, the 14 men that played against Depor racked up a tally of 876 passes with an average pass completion rate of more than 90 percent (via
WhoScored.com
).
In contrast, the visitors were restricted to just 336 passes, averaging a substantially more disappointing rate of just 74 percent passes completed.
------------------------------------------------------------------------------------------------------------