A vintage display this
wasn
't, but full points were taken...Yoda might say of
Arsenal
's 2-0 victory away at
Swansea City
.
The Swans
It is a testament to how far Swansea City have come since their return to the Premiership a mere season ago that Arsenal cannot take victory for granted when faced with this side from South Wales.
Their
newfound
reputation has come from some eye-catching displays and from a disciplined approach to the game—a discipline that has seen their effort crowned with a trophy already, securing a berth for them in Europe next year while fetching them some solid scalps from the first half of the season.
Top sides such as
Tottenham Hotspur
and
Chelsea
—both Arsenal's competition for the top-four spots in the Premiership—are yet to play Swansea City in the run-in to the end of the season and cannot be guaranteed automatic victory against the Swans, something that should hearten Arsenal fans.
The Match
Perhaps it was the pedigree of their opposition that made Arsenal start tentatively, as has become their wont this season. Or maybe it was just this habit of starting slowly and digging themselves into a hole. Whatever it was, it
wasn
't a good start for the Gunners.
The First Half
From a tactical point of view, the balance was all wrong in the midfield.
Abou
Diaby
had returned to the midfield to partner stand-in captain Mikel Arteta.
Santi
Cazorla
reverted to the middle as the arrowhead there while Alex
Oxlade
-Chamberlain took
Cazorla
's place on the left flank, mirrored by Theo
Walcott
on the other flank, with Olivier
Giroud
in the striking position.
Lukasz
Fabianski
retained his place in goal and Per
Mertesacker
and Laurent
Koscielny
partnered in central defense, with Nacho
Monreal
and Carl
Jenkinson
flanking them to form the back-four.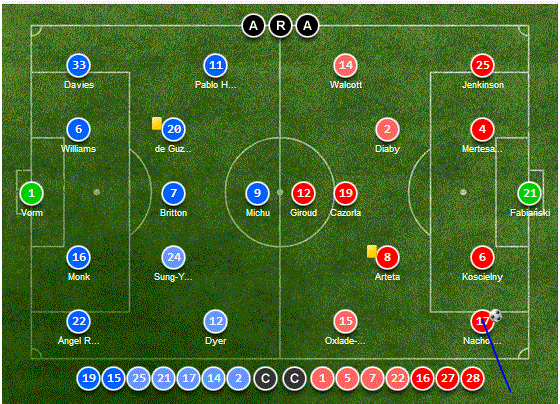 Lineup courtesy of Soccerway
With
Abou
Diaby
and Mikel Arteta sitting rather deep and close to the back-four, a space opened up in midfield that allowed the Swans to grab control of the game. Although barring some close calls on a couple of occasions (answered by
AOC
striking the bar twice), it can be argued that this control was pretty toothless.
Nevertheless, for a side that went into this match needing a win, it didn't seem a particularly good strategy to cede such a control of midfield as they did in the first half of the match. The fact that
Cazorla
tended to roam the midfield added to the lack of control therein.
This fact contributed to the reason why Arsenal were unable to fashion out real goalscoring opportunities in the first half.
The Second Half
Balance in the midfield was found in the second half by pushing
Abou
Diaby
in front of Mikel Arteta to act as the bridge therein.
This stopped the Swans' activity there and allowed
Diaby
to make some decent bursting runs with the ball, which, except for lack of final passes, would have yielded dividends for Arsenal.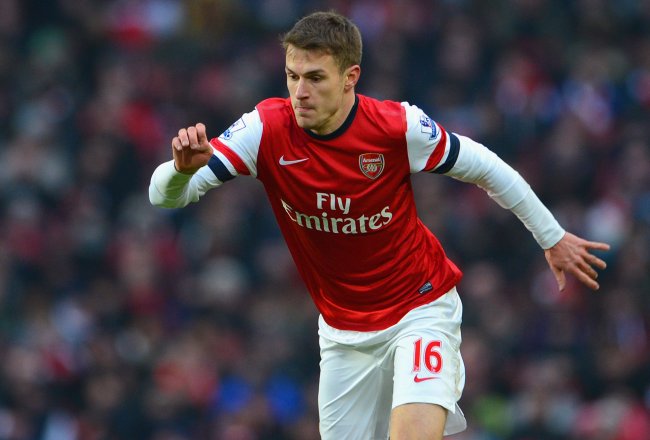 Michael Regan/Getty Images
Later on, much emboldened to play a higher line, greater control came to the team with the introduction of Aaron Ramsey in place of
Abou
Diaby
. The higher and staggered line allowed this better control.
The much more courageous approach was also the reason why Arsenal were able to score their two goals. In fact, at this point, it appeared as though the Swans were tiring out, whereas Arsenal seemed to grow in stature.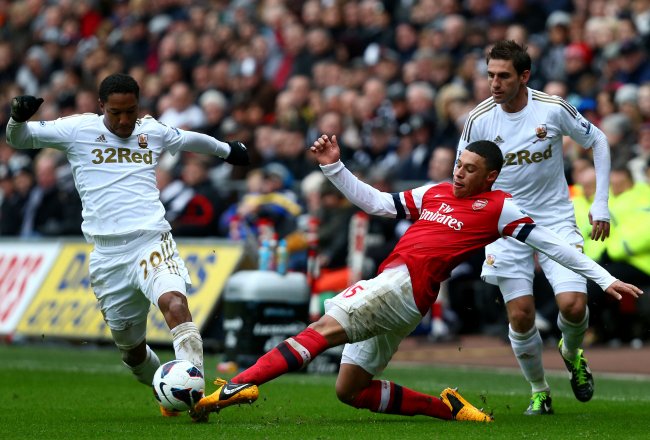 Jan Kruger/Getty Images
A Few Thoughts
It is a good thing that

Arsene

Wenger

has summoned some resolve to drop under-achieving players. I like Thomas

Vermaelen

, but I do think dropping him to the bench will allow him to catch some breath and regain his confidence. The same is true of

Wojciech

Szczę

sny

. I was happy to see

Lukasz

Fabianski

carry on in place of Szczę

sny

.
Olivier

Giroud

's confidence seems to have gone down a notch from what we had begun to see when he seemed to flower into form. Still, we should bear in mind that this is only his first season, and by that standard, he has done well. It appears that his presence as distraction to defenders could be reason enough to continue to play him. Otherwise I'd like to see more of

Gervinho

and even Lukas

Podolski

in the central position.
Alex

Oxlade

-Chamberlain is beginning to look like the player we saw last season. His tenacity won Arsenal the corner that led to the second goal at

Bayern

Munich in mid-week. Here, his drive nearly bore fruit for Arsenal. I'd like to see more of this from him.
I thought it was a wise substitution to bring on

Kieran

Gibbs in place of Theo

Walcott

to beef up Arsenal's defense when they needed to protect their goal advantage.
If Arsenal are to finish their season strongly, they should try to shed their tentativeness at the beginning of matches. I needed to see the same drive that yielded an early goal at

Bayern

, alas, this was wanting for most of the first half. To wait until the second half to get serious only invites trouble. Hopefully,

Wenger

and his assistants can continue to work on this problem with a view to eliminating it.