Everton bounced back in a huge way on Saturday at Goodison Park, defeating reigning English Premier League champions Manchester City 2-0.
Veteran midfielder Leon Osman put Everton ahead 1-0 in the first half with a 32nd-minute whistle which Joe Hart was unable to get to
:



GOAL Everton 1-0 Man City (32 mins). Leon Osman unleashes a superb curling strike that finds the top left corner of Joe Hart's goal.

#EVEMCI
Things got interesting in the 61st minute, when Everton's Steven Pienaar was sent off with a red card after being booked for a second time. As a result, Everton played a man down for the final half hour of the match.
Although City would threaten to score on their shorthanded opponent in the second half, Jan Mucha stepped up in goal and lifted the Toffees—who added an insurance goal by Nikica Jelavic in injury time—to a vital win over Roberto Mancini's powerhouse.
Perhaps Everton's mighty performance was inspired by the rainbow that popped up just outside of Goodison Park on Saturday


:
Football fanatic Billy Scott summed up Saturday's match and the result nicely with this tweet:



Everton look so comfortable man city have no spark the players dont look hungry for the ball

#EVEMCI
The loss keeps City 12 points back of rival Manchester United in the EPL table with fewer than 10 matches to play this season.
Meanwhile, the victory—just a week after David Moyes' men were dismantled at home by Wigan in the FA Cup quarterfinal—moves Everton past Liverpool and Arsenal in the EPL table. The Toffees are still more than 20 points back of United for the top spot.
Grades
Steven Pienaar, Everton: D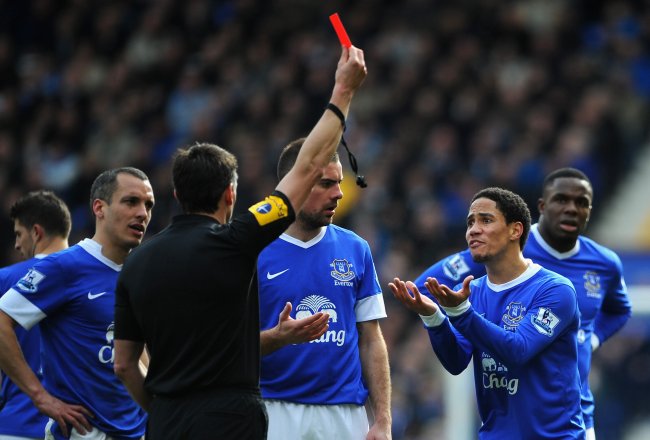 Michael Regan/Getty Images
Everton won Saturday's match in spite of midfielder Steven Pienaar, who had a performance to forgot. In addition to committing several fouls, the South African international picked up two yellow cards, putting his side down a man with a half hour left to play.
Thankfully for Pienaar, his teammates held on without him.
Carlos Tevez, Manchester City: B
Michael Regan/Getty Images
Tevez played aggressively on Saturday and could have scored on multiple occasions. Unfortunately, it wasn't his day, and he and City were unlucky to not find the back of the net at least once on the road.
Tevez put a pair of shots on goal and provided Mancini with a presence at the top of the lineup, even if it didn't pay off.
Leon Osman, Everton: A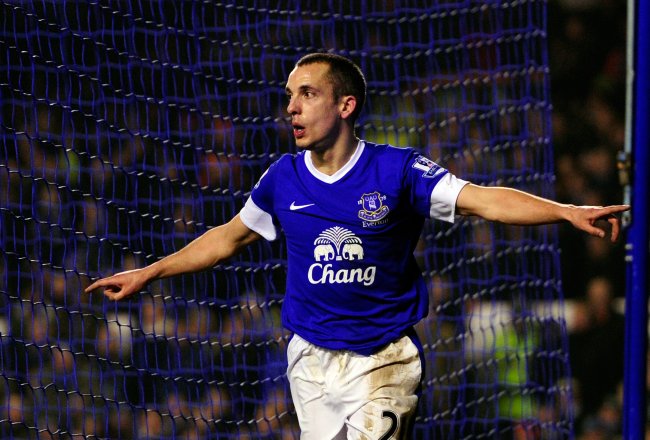 Stu Forster/Getty Images
Osman delivered for the Toffees on Saturday, scoring on a screamer in the first half to put Everton ahead and give the home crowd something to cheer about.
Not only did his goal turn out to be the match winner, but Osman's play in general in midfield was key for Everton as they earned a much-needed three points at home.
David Silva, Manchester City: C
Silva wasn't nearly as much of a factor as he needed to be on Saturday, failing to mount any significant pressure on Everton's defense.
City needed all three of their strikers to reach top form on Saturday. But while Tevez and Edin Dzeko combined for 10 shots against Everton, Silva was surprisingly underwhelming, recording more yellow cards than shots in 90-plus minutes.
Jan Mucha, Everton: A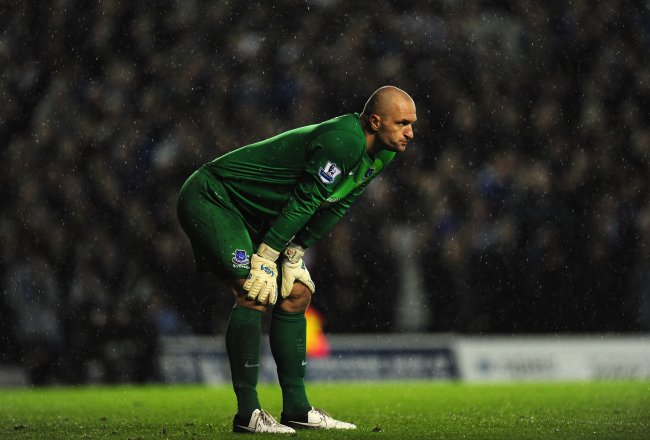 Stu Forster/Getty Images
A week after surrendering three goals in a span of four minutes, Jan Mucha delivered a quality effort in between the posts for David Moyes' squad. He made some impressive saves, including a pair late, to earn the clean sheet:
Everton's defense was solid in front of the goal, and City helped out with some mistakes of their own. But you have to credit Mucha for what was a brilliant bounce-back effort this weekend.