Eight teams. Five nations. Four ties. One dream. The draw for this season's Champions League quarter-finals generates that sort of feel you get when it's the last eight of a World Cup or Euro Championship: The eyes of the world fixed on every kick of every tie as the continent's best square up.
This year's quarter-finals have a bit of everything and enough potential material and sub plots to keep script writers occupied for months.
The romance of Malaga against the clinical relentlessness Dortmund.
Mourinho's fitful Madrid against the survivors of Galatasaray, complete with the Special One's old totem Didier Drogba.
The sheer glamour of PSG with their brand and their brio facing Barcelona, now back in touch with their former beauty, and, arguably, the most fascinating of all the ties sees brilliant Bayern Munich take on the most redoubtable of Old Ladies,
Juventus
.
Picking a favourite to lift the Champions League trophy is a formidable task.
Before the draw was made I would have probably stuck my money on Bayern, just ahead of Barcelona.
Now, though, with the lineup for the last eight known, I'm shifting it to the Catalans and here's why.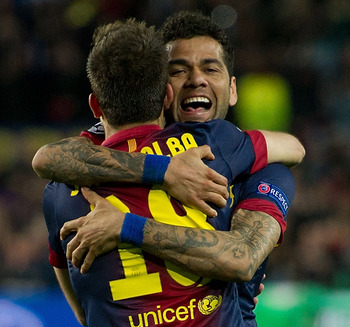 Beating AC Milan Showed Their Mojo Is Back
This season's competition has not been the swashbuckling swagger that we have normally come to expect from Barca.
Although they topped their qualifying group, it was not without the odd hiccup.
Their failure to beat Benfica at Camp Nou in their first match proved an irritating prelude to that
shocking defeat
in Glasgow against
Celtic
.
If alarm bells were chiming with those results, it was a full-on emergency claxon after the
first leg
of their last-16 tie with
AC Milan
.
Barcelona's 2-0 defeat was their first by such a margin in 133 games across all competitions (
via Uefa.com
), and when it arrived hot on the heels of successive defeats to
Real Madrid
in the Spanish cup and La Liga, the headlines were being readied: Barca are busted.
With all great teams, adversity is often viewed as an opportunity for inspiration rather than capitulation, and their performance in the
return against the Rossoneri
left no one in any doubt.
Barca busted? You must be joking.
When they are in the mood, it takes quite an object to derail them. The question is: With Barcelona firmly back in the mood, is there an object big enough out there?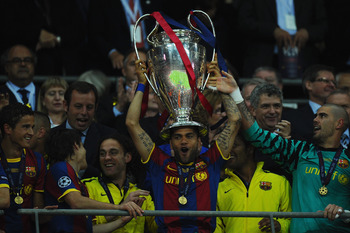 Clive Mason/Getty Images
They Are out to Make History
Barcelona are already history makers in this season's competition.
Their 4-2 aggregate win over Milan in the last 16 was the first time anyone has overcome a two-goal deficit without having scored an away goal. It rightly ranks among the
greatest comebacks in the history of the tournament
.
Another record beckons if they can reach the final and win. After two previous victories at Wembley in
1992
—they last played there before the stadium was rebuilt—and
2011
, Barcelona followed AC Milan, Real Madrid and
Liverpool
as the only side to become champions at the same venue twice.
No team has ever done it three times.
Barca are also powered this season by an emotional—as well as a historical—breeze.
Back in 2011, Eric Abidal played in the final just a couple of months after having surgery for cancer. Happily, he is now back to full fitness and
able to resume his career
at the club.
Parallels can be drawn with Barca's coach Tito Vilanova, who has been absent from the dugout this season due to his treatment for throat cancer.
Again the news appears good, with Vilanova set to return to the club in a matter of weeks.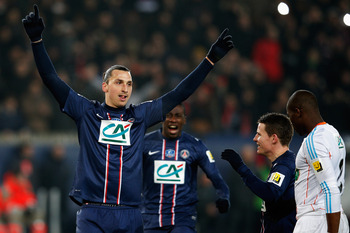 Dean Mouhtaropoulos/Getty Images
Zlatan Ibrahimovic Will Only Play Half the Tie
Of the many sub-plots thrown up by the quarter-final draw, seeing Zlatan Ibrahimovic try his magic out on his former employers was one of the most inveigling.
The Swede made the most of his one season at Camp Nou by banging in 21 goals three years ago, when he won the league and helped Barca reach the semi-finals of the Champions League.
His form this season for PSG has been relentless with
25 goals in 24 games
, and he has used his big-match prowess to help get them into the last eight for the first time since 1995.
Ibrahimovic and his manager Carlo Ancelotti have been left ruing the striker's
red card
in the first leg of their last-16 tie with Valencia, which sees him suspended for the visit of his old club.
PSG have other players who can fill the gap, of course, with the likes of Lucas Moura, Blaise Matuidi and Ezequiel Lavezzi, who has five goals in the tournament so far. They also have previously won over Barcelona. The last time they were in the quarter-finals—17 years ago—they progressed to the last four by beating Barca.
PSG will probably get the English vote too. With
no teams to get behind
, the sight of
David Beckham
should maintain their interest.
It will be tight, but missing Ibrahimovic for the first leg may prove a handicap too significant to overcome.
Lionel Messi's Genius Goes on and on
The man who needs no introduction.
Messi is such an efficient and reliable machine, you feel he really ought to be German.
The glorious little Argentinian shows no sign of having a dip in form anytime soon.
After an astonishing return of a record 91 goals in the whole of 2012 he has no intention of easing off the gas this year.
In the Champions League he has seven goals from eight games, and two of those came in breathtaking fashion as Barca turned their last-16 tie with AC Milan on its head. No one can score them quite like Messi. No one.
What is particularly fascinating about Messi is that his peak appears to be lasting.
While some players struggle to maintain their consistency or burn out altogether, Messi just goes on and on. He is as good now as he was back in 2009 when Barcelona, as a team, were at their zenith.
His performance against Milan showed he is still the little big man for the big occasion.
The Class of 2012/13 Can Still Show Flashes of the Barcelona of Old
Barcelona are not the team they were. That much is obvious.
They may not be in the same bracket as the class 2009, which won the treble of La Liga, Copa del Rey and Champions League, but while faces may change and limbs may age, the spirit never dies.
We saw that by the bucket-load against Milan.
Plenty has been written on Barca's tactical renaissance—and I shall leave it to others better placed to drill down into the minutiae of it all—but put simply: Barca remembered the importance of who they were and what it means to be Barcelona.
Sure, a tweak of formation, a more energetic pressing game and better discipline in and out of possession all helped. But it was spirit, above all else, that got them through into the quarter-finals.
It could be spirit that gets them all the way to the title.